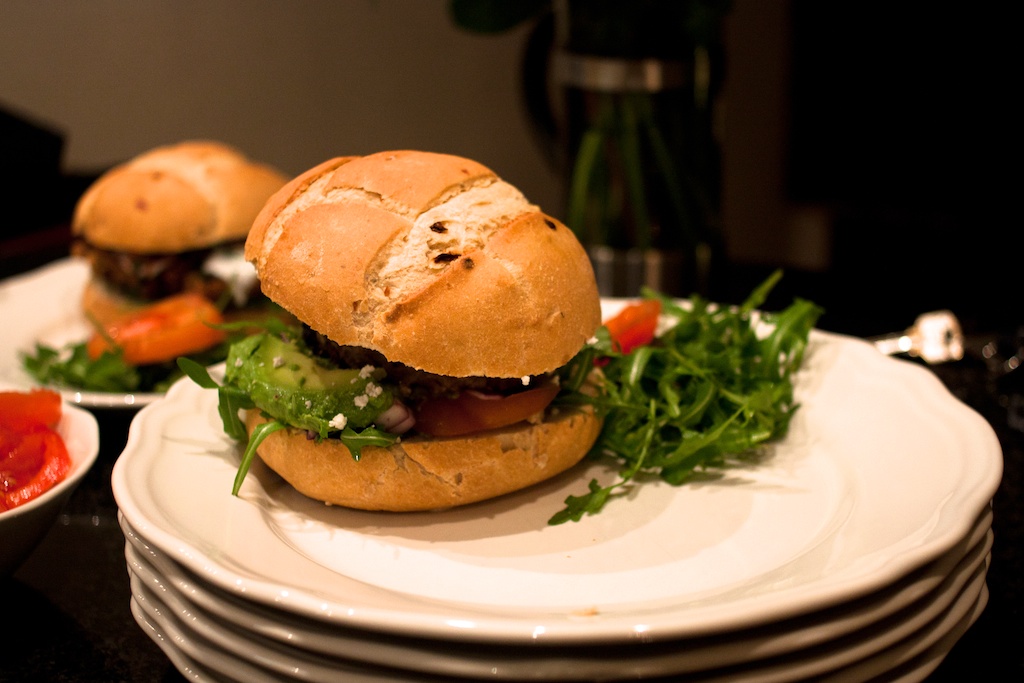 The Californian Aunt Millie is the first Burger Night Burger I ever made. I got my inspiration for this burger from the Cheese and Burger Society website. That site (essentially a smart Pavlovian advertisement for an American cheese brand) offers 40 (non-vegetarian) great looking burger recipes, and the Aunt Millie is one of them. I added avocado to the burger, and dubbed my variant the 'Californian Aunt Millie'. And I used my own meat-mix for the patty (something the C&B-site does not provide).
Ingredients (for 4 burgers):

The Burger:
600g of  minced meat (beef & pork)
1/2 red onion (finely chopped)
1 egg
1 clove of garlic (pressed)
cumin, pepper & salt
tabasco
worchester saus
Garnish
bun
avocado
rucola
tomato
1/2 red onion (finely chopped)
handful of seedless black olives (sliced)
feta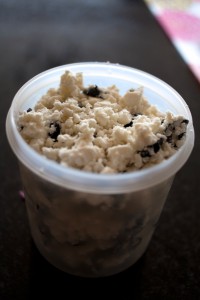 Mix all the ingredients in a large bowl, and start kneading the meat-mix. Use as much tabasco as you see fit. I usually like my burgers a little spicy, but I would advise against making this burger too spicy. Distribute the mix evenly into 4 patties. When you are done, put them in the refrigerator and leave them there for 2 to 3 hours.
When you think the burgers are ready, turn on stove so you can start grilling. (My buns did not require preheating this time, but if yours do, make sure your oven is heated as well, and put the buns in). The Californian Aunt Millie is mostly made of beef, so you can choose how you grill your burger like you would a steak: rare, medium or well done. I like my burgers a little juicy, so I usually go for medium.
When the patty is ready, all you have to do is stack the burger: bun, avocado, rucola, tomato, red onion, burger. On top of the burger, you put the feta and the olives. For this last step, I find it easier to crumble the feta, and mix it with the sliced olives before I put it on top of the burger (see picture). Serve with fries, and whatever garnish you have left. Enjoy!