Wraps make great lunches. It's not your average sandwich, but not so much more of an effort to make. This wrap does require us to make an omelette first. But when that's done, it's basically just piling and folding and you're done.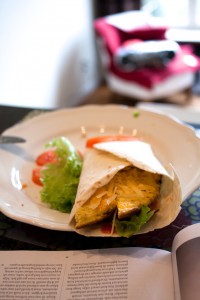 Ingredients (for 3 wraps)
1 onion
4 to 5 eggs
Parmesan
3 Wraps
Lettuce
Tomato
Ketchup
Tabasco
Salt & pepper
So like I said, we'll start with the eggs. Mince the onions, and put them in the frying pan with a little butter or oil (as you wish). While the onion's frying, break the eggs, and use a fork to whip them until you can't see the difference between egg white and egg yoke any more. Then pour it on top of the onions. I always pour the eggs in a circular motion, to keep the onions from moving to the side.
Sprinkle soms salt and pepper on top of the eggs while they're in the frying pan (some people spice their eggs before putting them in the frying pan, but it's better to do it afterwards). Let the eggs fry a little. When the top's becoming more firm, grate some parmesan on top of the eggs, and let it melt. When the eggs are done, take the pan off of the stove and start preparing the wrap.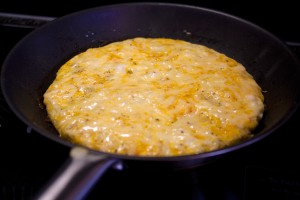 Take the wrap, and spread some ketchup on its diameter. Put some lettuce and tomatoes (thin slices) on top of the ketchup. Spice the salad with some pepper and salt. Then cut the egg into oblong slices, and put them on top of the vegetables; spice them with a few drops of tabasco. And finally, grate some more parmesan on top of the eggs.
Now all that's left is to fold your wrap! Take the bottom of the wrap, and fold it upwards, up to about 1/3 of the diameter. Afterwards, fold the right side to the left, and the left side to the right. If you have toothpicks or something similar, you can use it to keep the wraps folded tightly while you serve them. Or you could use a little tinfoil like you would with a burrito, but that's of course not as eco-friendly as a toothpick. Enjoy!