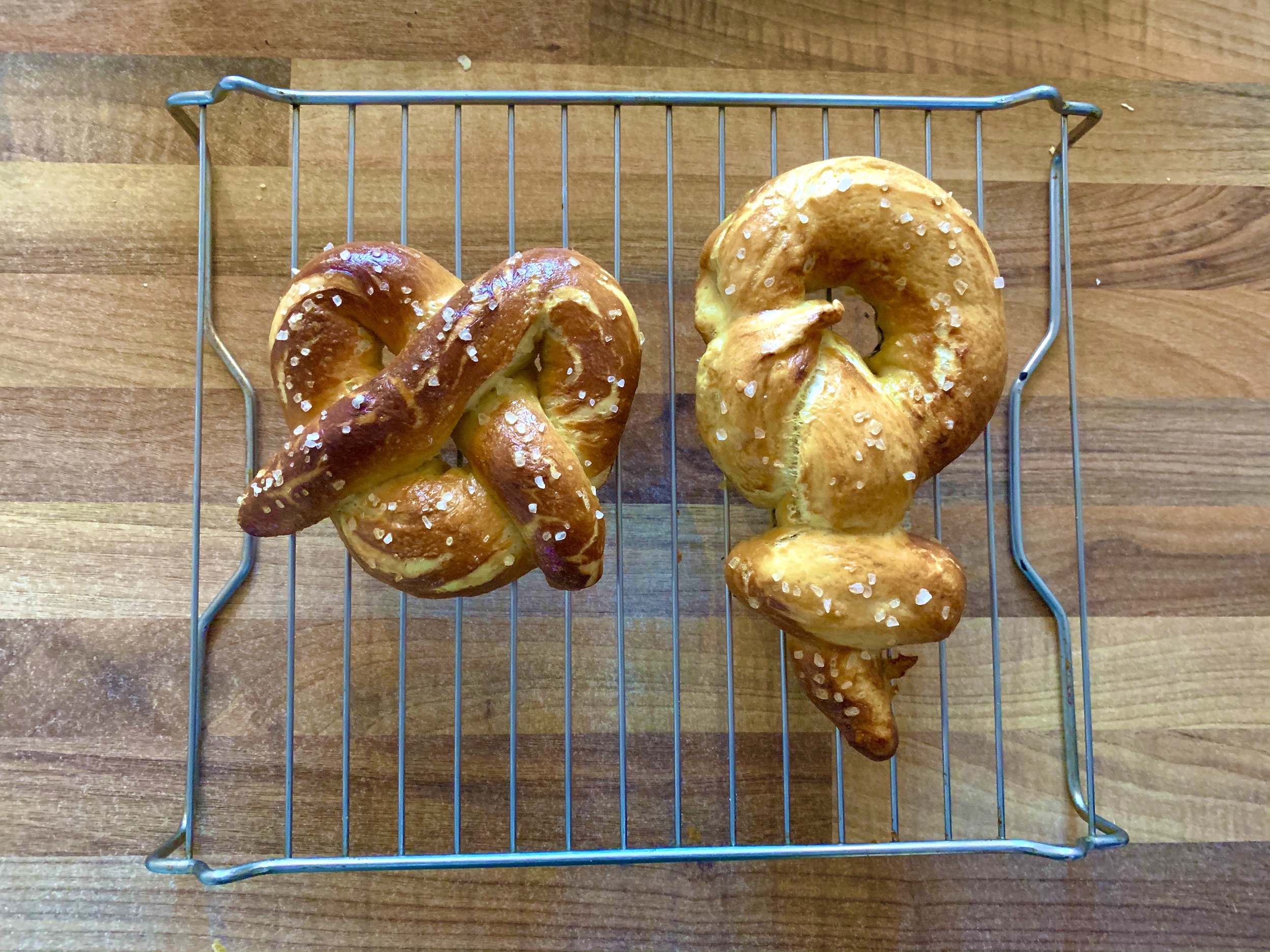 Happy belated International Women's Day everyone!
On Sunday, Merisa asked me if I would make her some soft pretzels. And how was I to refuse? It had been a while since I'd made them – and we'd been craving them at least since we last visited friends in Amsterdam. Pretzels are a lot easier to find there than they are here in Antwerp. Which is silly, because they're delicious!
I started getting into baking a while ago. First trying out pizza doughs, several years ago. They are so easy to make, and taste so much better than pre-made ones, that I never went back from making my own. (And I make pizza a lot.) Last year, then, I wanted to diversify my baking skills a bit, as I'd been getting more interested in learning how to make my own bread. I tried it a couple of times, and I still have a lot to learn (and measurements to adapt), but they turned out pretty well for first tries – if I do say so myself. Encouraged by Merisa, I've also tried out some other bread types since, like Challah and … pretzels. Which is what I wanted to write about today. The other ones will hopefully follow in the not too distant future.
Credit where credit's due: for these pretzels, I basically followed a recipe on the Food Network. I adapted it a little bit based on what how I make my pizza dough, but the recipe is more or less the same, so check out their site too.
Ingredients
350ml lukewarm to warm water
1 tbsp sugar
2 tsps salt
1 package (11g) of dry yeast
650g flour
60g unsalted butter, melted
Vegetable oil, for pan
2.5L water
130g bicarbonate of soda
1 large egg yolk beaten with 1 tbsp water
Pretzel salt
Directions
1) Add the sugar and yeast to the water. Allow to sit for 5 minutes or until the mixture begins to foam. In my experience, if the yeast doesn't really start to react (form a foam or a bubbly slimy film on top of the water), either the yeast has gone bad or the water was too cold or too hot. In any of those cases, the dough won't rise. So best not to waste the flower by continuing, but try again with fresh water and a new pack of yeast.
2) In a large bowl, sprinkle the salt on top of the flour, and shake. Take the butter, and pour over the mixture. Then, start pouring the water/salt/yeast into the mixture, mixing it in, bit by bit. You can use a machine to do this (dough hook, first low speed, then medium until smooth). But if you're like me and don't have one of those, just grab a hefty fork and use that instead. When the water is absorbed, knead the mixture a bit inside the bowl until it is halfway smooth and less sticky, then take it out of the bowl and onto your kitchen workspace, and keep kneading it on there until it's really smooth (maybe about 5 minutes). Clean the bowl and add some vegetable oil to it (I use one of those rubber cooking brushes to make sure it sticks to the sides), and place the ball of dough back into the bowl. Cover it with a wet towel, and let it sit in a warm place for about an hour or until it has doubled in size.
3) Preheat the oven to 220C/Gas 8. Line 2 half-sheet pans with parchment paper and lightly brush with the vegetable oil. Set aside. 
3) Bring the 2.5L of water and the bicarbonate of soda to a rolling boil in a large saucepan or roasting pan.
4) In the meantime, turn the dough out onto a slightly oiled work surface and divide into 8 equal pieces. Roll out each piece of dough into a 60-cm rope. Make a U-shape with the rope, holding the ends of the rope, cross them over each other and press onto the bottom of the U in order to form the shape of a pretzel. Place onto the parchment-lined half sheet pan.
5) Place the pretzels into the boiling water, 1 by 1, for 30 seconds. Remove them from the water using a large flat spatula. Return to the half sheet pan, brush the top of each pretzel with the beaten egg yolk and water mixture and sprinkle with the pretzel salt. Bake until dark golden brown in color, approximately 12 to 14 minutes. Transfer to a cooling rack for at least 5 minutes before serving.
Et voilà! You have your pretzels! Enjoy!