Or: Wout går till Sverige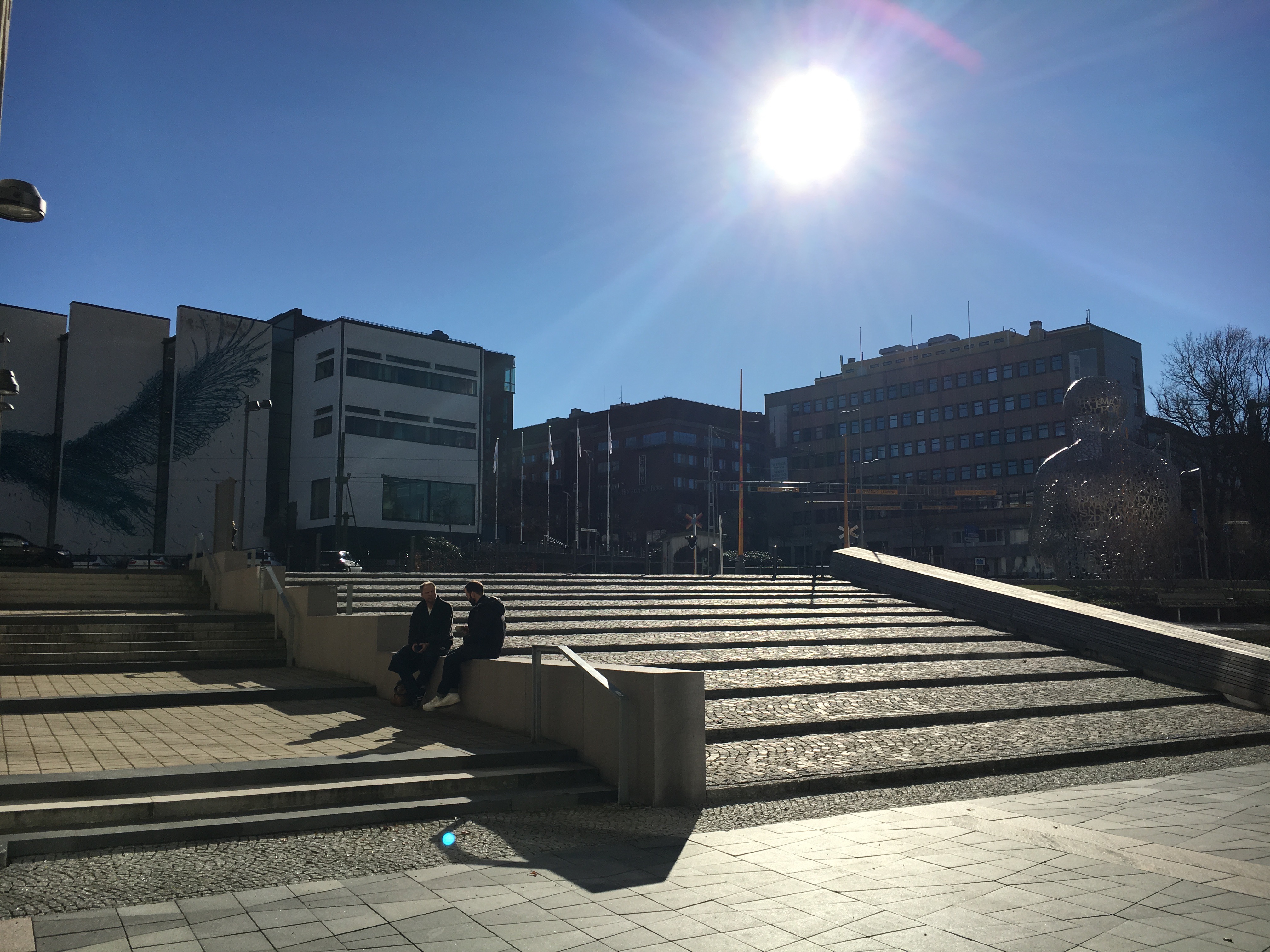 Two days ago, I packed my bags, boarded a plane, and set off to Sweden. To Gothenburg Landvetter, to be exact — departing in Deurne instead of Zaventem due to the tragic events that took place in Brussels only last week. Still, we try to move on, and as it was such a beautiful day, it gave me a chance to say goodbye to Antwerp from a bird's eye view. We had a clear view of the cathedral, the Boerentoren, the MAS museum, the parks, etc. I'll miss this place, but it's not a permanent goodbye, and it's the start of an exciting new experience that will take place in Sweden, in the quaint little town of Borås, less than an hour's drive outside of Gothenburg.
For the past three months, I've been working at the University of Antwerp where I defended my Ph.D. dissertation last December. My first postdoc experience (January — March 2016) was as the coordinator of the Antwerp division of the DARIAH-VL consortium (part of DARIAH-BE), where I worked as a liaison between DH projects in Antwerp, and helped develop some pilot projects at the University's Centre for Manuscript Genetics (CMG) as well. But since this was only a part-time job, I was looking for something else to either complement my work on this project, or to replace it — in which case I was hoping to at least keep my affiliation to the CMG, and/or the DARIAH project. And I was very happy to find exactly such a position in Borås.
Today, on the 1st of April (no joke), I've officially started my postdoc position at the Swedish School for Library and Information Science at the University of Borås. It's an ER position of 12 months that's part of the DiXiT project, a Marie Curie Initial Training Network that focuses on Digital Scholarly Editing. The project's called Digital Scholarly Editing and Memory Institutions, and more specifically we'll be looking into quality control measures for digitization processes. Leaning more towards Library and Information Science than Literary Studies, it's a little outside of my comfort zone, but the subject's still very much linked to my own research interests with regard to Digital Scholarly Editing.
As textual scholars working with Digital Scholarly Editions, we are placing a lot of trust in the digital reproductions of the historical documents we claim to study — which is why I believe authenticity and quality control are such important issues that need to be considered at the outset of any Digital Scholarly Editing project. That is why for this project, we'll be investigating the collaborations and processes of negotiation between researchers, memory institutions, and other third party industrial agents that may have an impact on the type and depth of the quality measures that are implemented in the digitization process to ensure the authenticity of digital reproductions. And that's where my continued affiliation to the DARIAH project comes into play: in collaboration with the DARIAH network, we hope to be able to expand the scope of this study by examining these issues not only on the institutional level, but on the national (or even international) level as well.
But let's not get ahead of ourselves. As it's only officially started today, the project's obviously still very early stages, and we still have a lot of decisions to make regarding the exact direction we'd want the project to take. But in any case, I'm very excited about this project, and about this opportunity for a fresh start in a new city (country) with a bunch of new colleagues — who have all gone out of their way to make me feel very welcome. If you'd like to know more about the project, keep an eye out for more posts on this blog, and/or come to the DH Benelux conference in Beval, Luxembourg this June! I found out yesterday afternoon that their Programme Committee accepted my poster on this project, so I'd be able to tell you more in person there if you happen to be there too. If not to learn more about this project, please consider registering for the conference anyway: only in its third edition, DH Benelux has already been a great success, and I'm sure the Luxembourg team will turn this year's edition into an amazing conference as well.